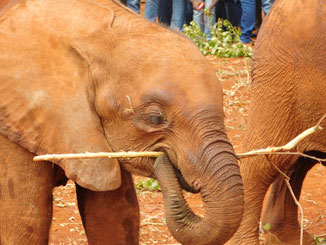 Nairobi, the capital of Kenya.
Did I know much about Nairobi before flying in? Nope, not much at all. All I really knew was that Kenyans are amazing long distance runners and "Oh you're going to Nairobi, don't you mean Nairobbery." As put to me by a narrow minded lady on my flight from Melbourne to Perth, first leg over to Nairobi. It's dangerous; they are really poor so the crime rate is extremely high. I'm a confident solo female traveller and I have been to many "dangerous" countries before. I like to think I'm smart and do my research before planning a trip, especially to a continent such as Africa. But this trip, I actually didn't do too much at all.
Every time I looked up something it made me feel a little scared and made me start to doubt my decision to follow my dreams and see all the animals in the wild. Instead of watching National Geographic, I wanted to live it. I wasn't going to let anything turn me off. So I got on trip advisor and looked at the "Things to do" section. I already knew that I wanted to visit The David Sheldrick Wildlife Trust, as I have sponsored the orphaned elephants for years and wanted to see them in person, along with a couple of other things that seemed very cool. Not sure how I would get there, but I knew I'd figure it out as I went.
Flying into Nairobi, I was meant to meet another girl I knew from Melbourne who was on the same tour. She had flown in two hours before me. In Perth, waiting to board to Johannesburg I met another two ladies who were staying at the same eco camp in Nairobi. Same tour company, but different tour, they were heading all the way down to Victoria falls, as I was finishing in Zanzibar. We all had organised airport transfers, so we knew we would all be in the same van. I always make sure I organise transfers, even if it's expensive, it's worth it in these types of countries where public transport is not an option. This transfer was included with the tour company; I personally think they should all include airport transfers, especially in countries where public transport is not an option.
I flew over with South African air, all was good, I had no one next to me, and I had two seats to myself- awesome. I'm gluten intolerant, I always request the GF meal, as I had in this case, it stated 'special request' even on my boarding pass. No GF meal provided for me for the 11 hour flight, YAY! The staff were not overly friendly and politely implied that it was my mistake, not the airlines. The airline did supply the GF meal for the 5 hour flight to Nairobi, their inconsistency proved it to be their mistake – this is not my first encounter regarding this issue.
 After more than 24 hours being in transit and very hungry, I finally arrived at Nairobi airport, a big hot tin shed.  I filled out the incoming passenger card, lined up, sweating like crazy, went through customs, where we had our photo taken and finger prints, very first world. I was impressed, most third world countries customs are very simple, just stamp the passport and you're on your way. The other ladies I had just met in Perth were having a bit of trouble understanding the fingerprinting, so I continued on to grab my backpack and exit, expecting to see the girl who was meant to be waiting for me. She was not anywhere; actually there was no one around at all. It's was so quiet.
The other ladies finally joined me, and we're all standing there lost and confused. We asked a lady standing at the Taxi stand where the transfer people are. She said "I'm not sure, they could be outside, but once you go out with all your bags you can't enter back into the airport, but I can order you a taxi if you like."  So odd that we couldn't enter back in, one of the ladies left her bags with us and went out to see what was happening outside the airport. Standing in the big tin shed of the airport, my mind is going crazy, what's happened to my friend? Had she been kidnapped? I had no text; surely she would have sent me a text if she had left. Normally I wouldn't panic, but all the stories I've heard about Nairobi, it's the first place my mind went too. The lady returned and said the tour company 'On the Go' was outside, but the sign didn't have our names on it. So I said, "Ok, so let's go and talk to him." We walked out with all our bags, knowing there was no returning back into the airport. Sure enough a guy from the tour company was there with a sign that now had our names on it. It was the same guy the lady had seen, but he was waiting for multiple people, so he was rotating the signs. Still stressing and not seeing my friend anywhere, the first thing I asked was about her. He had told me he had already picked her up and taken her to the eco camp - now I could now breathe again. A helpful tip would have been to know that all the people waiting for transfers were outside the actual airport, not like most others, which are waiting as soon as you exit out the baggage section.
I look around and see barbed wire on top of all the fencing and guards with large guns walking around. Instantly my senses are heightened, I'm always aware, but I quickly see I need to be more aware than anywhere else I have ever been. We had to wait for the driver to go and pick up some more people, he got us to just wait in the car park section, and we then could all walk to the van. All the locals are staring at us; I'm staring back at them, thinking they are sizing us up to rob us. The driver returned with another six people, mostly Aussies. The driver was lovely, he spoke about the things to do in Nairobi, mostly things I had seen on Trip Advisor. He said he could organise a driver for a little cheaper than what the eco camp would offer. He seemed trust worthy and when I'm travelling I really trust my gut and intuition, he seemed safe, and so the person he would organise should be safe.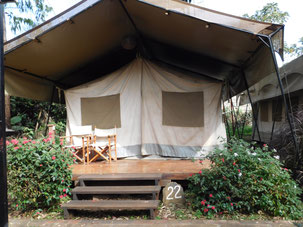 Arriving at the Wildebeest Eco Camp, I find my friend sleeping in the glamping tent, all safe and sound. It was my first time in this type of accommodation. It's a very cool place; I was totally impressed with how beautiful it is.  I had been expecting Nairobi to be very basic and not so pretty, I was wrong. There are two man tents set up on the perfectly manicured lawns and actual glamping permanent tents. A large pool and bar/restaurant area. Glamping, the new cool word for luxury camping, all the comforts you would find in a hotel, but it's in a tent. I was really happy, they had decent Wi-Fi too, bonus.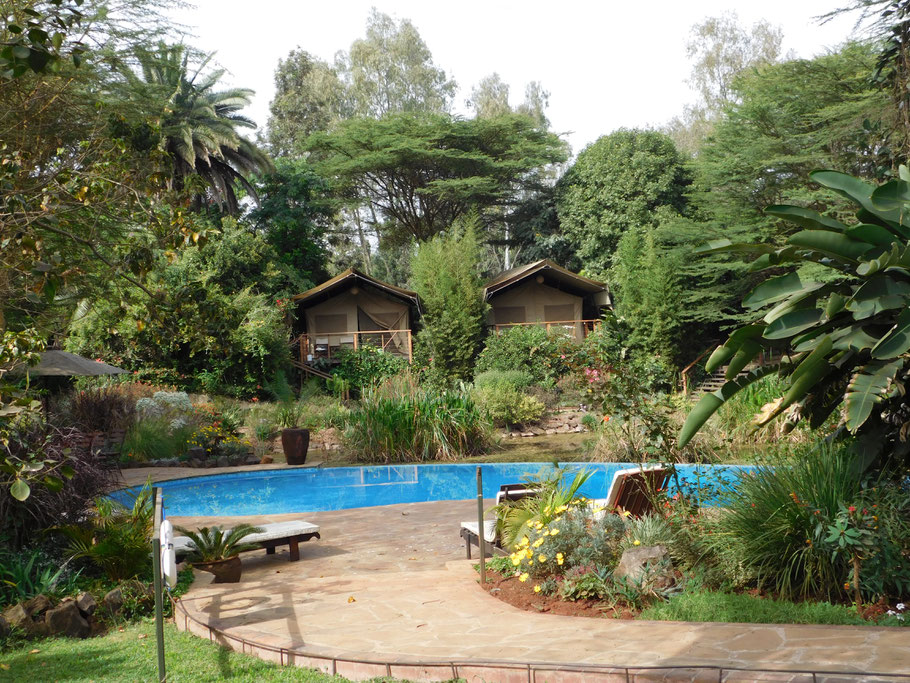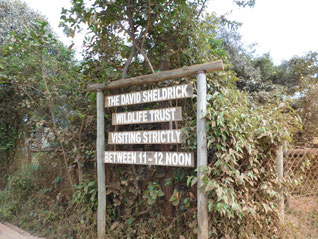 We had been given the name of the guy who was going to take us around to all the tourist spots. Around 10am we went to the reception, saw a guy and mentioned who we were and he said he will take us. He seemed a little confused; we thought this guy doesn't seem right. We had to put our luggage into storage as we had to move rooms for the next night. While we were doing this another guy came over and knew my name. He was the actual guy we were meant to go with. Turns out the other guy wasn't and he was just trying to get our business. So Kenyans will lie to get your business, note taken.
We walked over to a car and it was just the two of us with a driver. He said it was $35USD and we pay our own entry prices.
The first place we drove to was The David Sheldrick Wildlife Trust, it's only open for one hour a day, between 11am-12noon. I was so excited. Our amazing driver took us through a little short cut, as it was so busy, buses, and cars everywhere. It was $7USD to enter. Then we walk to a huge fenced off area, where they bring the orphaned elephants in to have their morning feed. Hundreds of people flock to the fences to get a prime position. If you are not quick, like I wasn't, then you get stuck behind lots of rude tall people who don't move. So visibility for all 5'6 of me was not great, I couldn't get to the front at all. I was so excited to go there and I actually found it so frustrating that we left a little early to look in the store section before all the hundreds of people flocked there too. Our driver was waiting out the front for us, lucky as I wouldn't have found his car as there was so many.
https://www.sheldrickwildlifetrust.org
 When we got in the car, our driver mentioned to us that everyone from there would be going straight to the giraffe centre and the bead factory shuts soon. He should take us to the Bead Factory first, then to the Giraffe Centre. When we got to the bead factory there was only a couple of other people there, it was so nice to get away from all those hundreds of people. Our driver organised a tour of the bead factory, it was the absolute highlight of the day, and the women working there are so amazing. I loved learning all about the process and actually seeing all the women working. I spent way more than I thought I would, but the necklaces were so beautiful I couldn't help myself. So be warned if you go to the bead factory you will probably spend close to $100USD. It's again all in USD, so not cheap for an Aussie, but I don't mind supporting a good cause.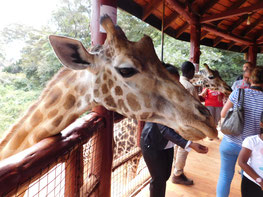 We leave there on a high after such a great experience. Next place to visit is the Giraffe centre. $11USD to enter - was it worth it? Not really. The giraffes are right there to be hand fed, pretty cool to feed them and pat them, but there is nothing else to do there- apart from watch other tourists feed them, some doing it from their mouths, ewww! So gross. There is no limit on how long one could stay; we stayed for around 20 minutes. Then we were taken back to our eco camp.
We asked our driver about a restaurant I had seen on TA called Carnivore; he said it's very cool and worth going too.  After our meeting for our 'On the Go' tour, that was departing the next morning, I asked the guide about heading out for dinner. He said he was actually heading there and he would see if he could make a booking for us also, and organise another car. If he hadn't of been able to do this, I could have asked reception to do the same. He got us a booking and organised a taxi for us too, I asked my new friends I had just met in the meeting, if anyone else wanted to join us. Two English girls said they would love to join us, the 4 of us got ready and jumped into the taxi. It's not a taxi that looks like a taxi to us. The Taxis we would recognise are the ones us westerners do not go into. It's a private car, no signage. We drove through Nairobi city, very cool to actually see more of the city, during the day it felt like we had just seen the outskirts.
The restaurant was very cool, nicely set up, again, not what I expected for Nairobi. It was $35USD for all you can eat Brazilian BBQ style. The amount and type of food was amazing, but for me, not so good. I told them I was Gluten Free. I thought, it's all meat, it will be fine. They brought me out one plate of very oily, over cooked meat. That's all. I wasn't too impressed. When I questioned if I had to pay the same amount as everyone else who ate enough for 5 people, they replied with 'of course'. I was not very happy. I actually think they don't know what Gluten is, so I shouldn't have said anything and just asked if every piece of meat had anything on it, as most looked like it would have been ok. The overall experience was fantastic though. If you don't have any allergies, it's totally worth getting out of your hotel and eating till you can't eat anymore, even a serve of some nice vein filled testicles if you can stomach it. Our driver organised a time earlier to pick us up, we told him 10pm, could have probably been a little earlier, but it was nice to not rush. As we walked out, sure enough there he was right there near the entrance to take us back. It was $10USD return between the four of us.
http://www.tamarind.co.ke/carnivore/
What a jam packed day, but it was totally amazing and I only have great things to say about Nairobi. So many other people I spoke to didn't leave the eco camp as they were again warned how scary and dangerous it is. Yes, don't get me wrong, it absolutely can be. Or as people that haven't travelled very much will say "I don't want to do the tourist things, I want to hang with the locals" UMM NO!! DO NOT ATTEMPT IT!
But if you are careful and organise private drivers who will not put you in any danger, then absolutely get out and experience what it has to offer. Not once did I feel unsafe or stressed, but I did spend a lot of money for that one day. Although, now I do have lots of beautiful necklaces to remind me of my fabulous day in Nairobi.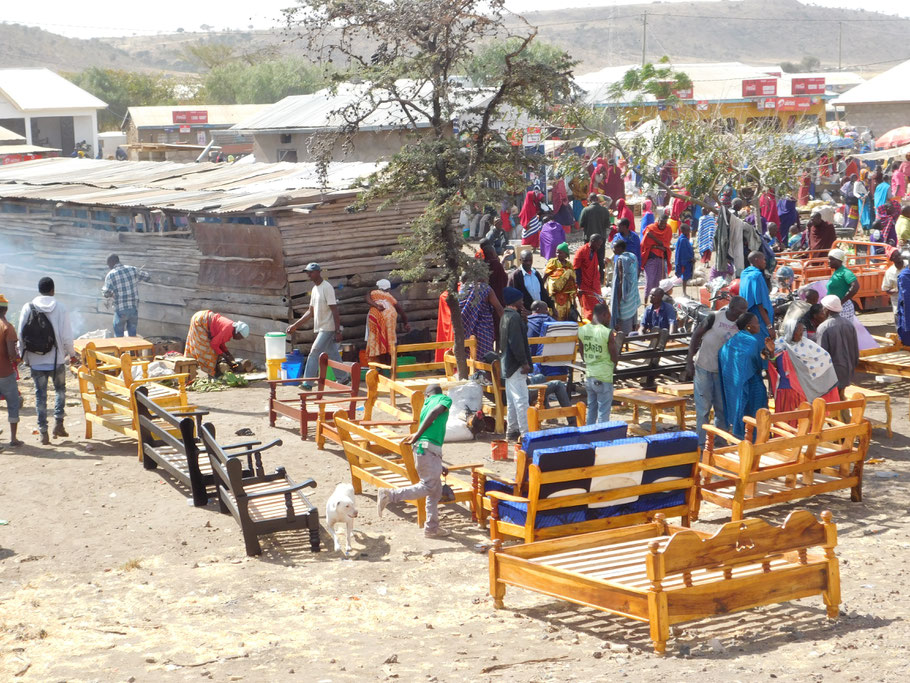 Love life and adventure on,
MiShel.
---
All images are taken by Mishel Lee.
---