Did you ever watch Gorillas in the Mist? I remember watching it as a young girl with my Aunty. I even remember saying to her, "one day I want to see gorillas in the wild". My Aunty responded with "wouldn't that be amazing?". She was right, years later I did that exact thing. I saw these incredible creatures in the wild, and it was truly amazing.
Everything I'm going to explain to you will not compare to that phenomenal feeling you will get if you have this experience for yourselves. Many times I had imagined what it would be like. I had imagined walking on neat tracks and then getting to a clearing and seeing a silver back with uninterrupted views. Playing with his young in a beautiful large open clearing of the jungle. Gee was I wrong.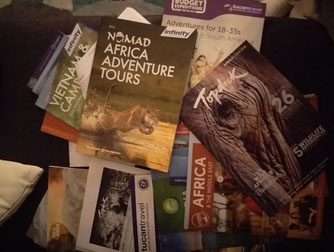 When I started my research for my African trip, I quickly noticed how expensive the gorilla trek is. It was thousands more than I had expected. The gorilla permit alone is around $1000 AUD. I could feel my eyes welling up, "I don't think I can afford this" I told myself. My dream of trekking through the jungle to see the gorillas was over because it was out of my budget. I then had to change my plans, and I started looking at tours that didn't incorporate the gorilla trek. As I continued planning, I had noticed my excitement had dwindled. I had lost a little passion for my African trip. Then I thought, "What am I doing? I will regret going all that way to East Africa, and not doing the one thing I've dreamt of since I was young." This inspired me to look and look through every tour company that covered Uganda and Rwanda. I finally found one company that suited my budget and timeline. Making all the dates connect was tough, as I had a wedding to attend in South Africa. It seriously took me months to sort it out. Once my travel agent told me it was available, my extreme excitement immediately returned. Woo-hoo, it was actually going to happen!
The tour I selected was with NOMAD tours. This tour covers a lot of Uganda. The first part of the week we went to another area of Uganda, Murchison Falls, where we trekked to see the chimpanzees. We got all ready for a big trek. It wasn't that hard. As soon as we got in the jungle we could hear the call from the chimps. It sounded like a symphony orchestra, they are all calling together. It sounded like sweet music that blew my mind. The chimps move so quickly, so we were listening and chasing the sound of them through the forest. It was very exciting and the adrenaline was flowing. Finally, we caught up to them and got to watch them in a tree. There were around 15 chimps, swinging and eating in the high tree. It was amazing to hear them in the wild and was so loud. I managed to capture one call on my camera but it cannot compare to the exact sound and feeling that you get in person. It is really quite phenomenal. Not that we realised, but this was a slight taste of what we were yet to experience at Bwindi. Watch the video below to hear a small call, that's just a taste of what it actually sounds like in person.
We stayed at the Lake Bunyonyi Overland Resort. It is about a two-hour drive to the Bwindi Impenetrable Forest, where most of the mountain gorillas live. Unfortunately, there aren't thousands roaming freely around like in my vision. They are an endangered species and there are only around 900, give or take a few, left in the wild. The permit to go out and see the gorillas is to help protect them, and to keep the numbers of people to a manageable amount. As it is, eight people see the gorillas for one hour every day. Imagine if it wasn't controlled?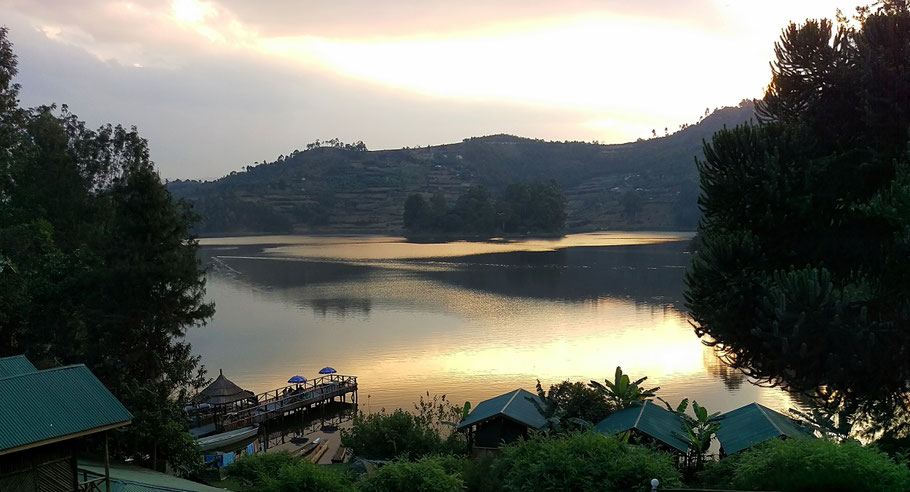 http://bunyonyioverland.com/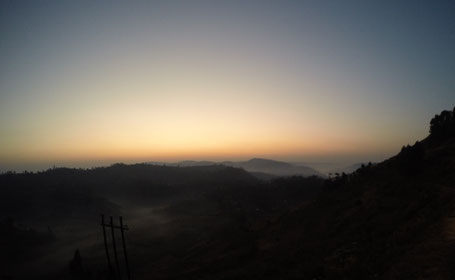 We got up super early to pile into the vans for the two hour drive. I had been told that it was a really bad and bumpy drive with not many sealed roads. I get terrible travel sickness so I took a travel calm tablet. It knocks me out, I actually slept most of the way. I'd rather that than the awful queasy feeling. We stopped to get a photo of the sun rising between the mountains. Uganda is gorgeous.
We arrive at the entrance to the forest and got out of the van all excited and dressed in our hiking gear. I had hiking boots and hiking pants tucked into my socks. Some Aussie girls that had been on the tour before me had advised me to wear thick socks. I actually had three different types of socks on. With the long socks, it's important to tuck them into your pants as the ants are known to climb up your leg and bite. I also had another pair of long socks underneath my hiking pants, tucked into my 3/4 length Skins, then another thick shorter pair for warmth. I also wore my Nike running top and my amazing Nike running waterproof jacket. A brilliant lady I had met previously gave me the tip of needing gloves. I hadn't even thought of gloves, it wasn't in any of the documentation but of course it made sense. I started to have a mini freak out, I didn't have any, how did I not think of that? She was so unbelievable and gave me hers as she didn't need them anymore. Thankfully she did. Big tip! You need gloves for this trek!
 We looked for others and there wasn't anybody around. We asked our driver, "Are we here?" He responded "Yeah, up this way." We all followed him up this super steep hill. Out of breath we reach an area where there were a big bunch of porters sitting down waiting patiently. Porters are people you can hire for a minimum fee of $15 USD. It is worth every cent and more. The Porter carries your bag and holds your hand through tough sections to stop you from falling. It is recommended that you take at least five litres of water on the trek, just in case it turns into an eight hour trek. This makes the backpacks very heavy to start with.
There is a shelter where a briefing is held. A guide speaks about the mountain gorillas, the forest and a few rules. Before the briefing started we waited a while. We had no idea why and later found out that all the guides allocate which group is going to what group of gorillas. 
The groups of eight people are paired together by age and fitness. If the average age of the group is older they will trek to a closer group of gorillas. A younger fit group will trek to a group of gorillas that are further away on the mountain. The way they know how to do this is thanks to the trackers. Trackers are people who are already out in the forest with the gorillas tracking their every move. They have radios and radio back the movement of the groups. 
Once we are all briefed, we went to the disgusting toilets. This was a toilet bowl with a long drop underneath, a drop toilet. Times like this I wish I was a male. I dry retched my way through, then I was ready to trek. We got into our groups and met our guide. Every group has one guide and one security guard. The security guard has a big gun, not for shooting any animals, but to shoot in the air in case the elephants run at us. This is designed to scare them, not shoot them.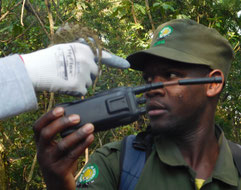 We are all pumped and finally start the trek. We head up another steep hill on a path following all the other groups. We stopped in sections for some people to catch their breath. Our guide got a call on the radio and boom…. we were off the path and heading into the forest. The guide had a big machete and he slashed through the terrain. Descending into the forest, my amazing porter held my hand and made sure I was ok when needed. We stopped at one point and looked at a lizard, had some water, and started off again. Our guide was constantly communicating on the radio to the trackers. Gorillas are wild animals and, unlike my vision where they were still, they moved a lot.
 We stopped on the side of the mountain, thankful for the stick we were given at the start to help keep us stabilised. The trackers weren't sure if the gorillas were heading up or down the mountain, so we waited. We actually waited for around an hour. Then there was a call on the radio and we were on the hunt again. It was not too much further until we got to where the gorillas were.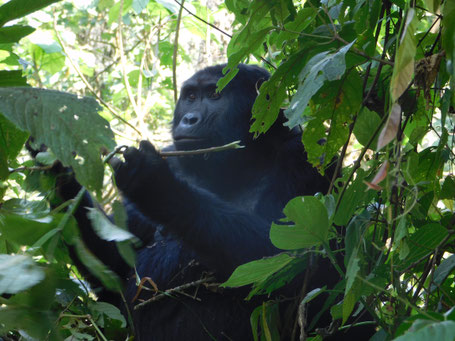 We were told to be quiet, then our porters came over and handed us our belongings so we could get our cameras out. We didn't realise we were close. Once we all had our cameras we walked another ten feet and looked up. There was a female gorilla in the tree! We were on the edge of the mountain, it was so hard to stand with only thick vines under our feet. The fight for the front position was on.
I have noticed Europeans are very demanding and pushy when it comes to these types of situations. I get it, everyone wants the best shots. It just seemed to be the three Aussies being respectful and hanging near the back and waiting our turn. Our turn was not happening. Being shorter than most it was hard to see. It got to the point where one of the lovely Aussie guys spoke up and pushed us to the front. The only problem is that once at the front, it is really tough to move back.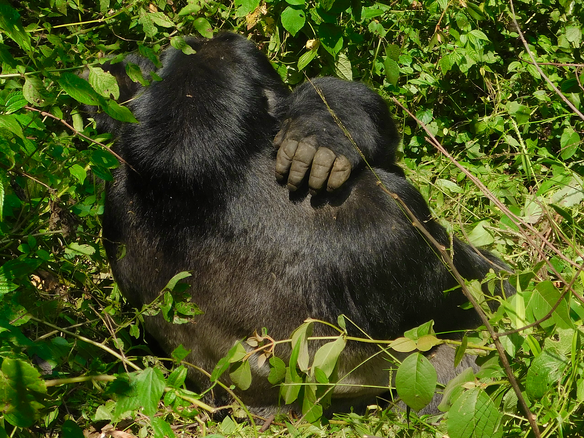 We stopped, quiet and still, hearing the sounds of the shutters snapping on all the cameras. We watched a baby gorilla playing, then the little bubble of energy quickly came over to touch someone's shoe and in a blink of an eye, a big daddy Silverback charged over to stomp the ground.
Adrenaline was pumping through our veins trying not to make eye contact, the baby quickly moved back into the shrubbery. The Silverback's movements were so fast and strong, the sound of him hitting the ground sounded like a drum being hit. He slowly moved back to the shrubbery. He clearly showed us who was boss and I can tell you, we all knew it. The sheer power he conveyed was simply fascinating. It was one of those moments in life, where in that exact moment, you stop thinking and just be. This was one of the most magnificent things I have done. I had goosebumps all over. Then they all moved on, so the chase was on again.
Check out my highlight clip of my amazing six hours in the forest.
 We then started the trek back. It was lunchtime, so we stopped for lunch. We had all packed our lunches early in the morning. We stopped in a flattish area, sat on the ground and ate. Ants started crawling over our feet, but at that moment, the euphoria of the last hour took over and nothing else mattered. We started off again and headed downhill, which was not as physically tough on the body, but the chance of falling and slipping was much higher. This is the time when my porter was best thing I did. She helped me so much and I didn't fall over once. She was amazing, please hire a porter, you will not regret it.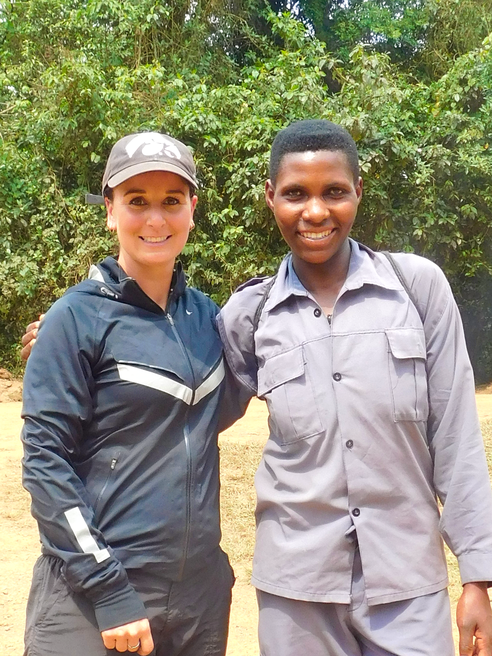 We got back to our base and the guide did a little ceremony where they gave out a certificate with our name on it. It was really sweet and everyone clapped. It was an achievement, I now have that certificate in a frame.
It was one of the most incredible experiences of my life so far, if you are not sure if you should spend the money and do it, I say YES, YOU SHOULD!!
Love life and adventure on,
MiShel.