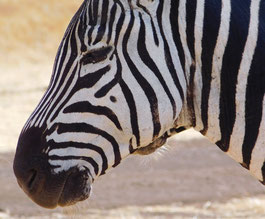 Ngorongoro Crater, yeah, good luck trying to say that. Before I got there I just called it the Crater. The way the locals say it, it sounds like gorogoro, easy enough to say. I actually hadn't heard about it before I started research for Africa and I saw it was on all the tour itineraries. I had no idea that it would end up being more of a highlight than the Serengeti for me. The Serengeti was the place I had always dreamed of going too.
We flew into Nairobi from Australia and stayed two nights. Our tour bus took us to a small town called Arusha where we went to the supermarket to get supplies for the next few days. Five litres of water is a must! Remember that the water in Africa is not safe for a westerner to drink. I use it to wash my face and brush my teeth. I am super vigilant with using the bottled water, I do not want to get the 'water runs'.  So far, so good and I can very proudly say that I have never had that problem.
 We stayed the night in Arusha in a place called the Snake Park. What a very cool place! Camping grounds with a bar, a very funky bar at that. The lady who runs the place is absolutely brilliant. We spoke for a while drinking Cider. There are a few cabins, they do not have private bathrooms, it's all communal facilities and is very basic. They do however have electrical ports and a bed. It has a snake park attached to it. Lots of snakes in enclosures and a few other animals. Not my kind of thing. I only spent about 15 minutes in it.
 We left Arusha and headed to Karatu, the edge of the Serengeti. After a night at the Flamingo Safari Lodge in Karatu, we were up early to jump in our jeeps and head to the Ngorongoro Crater. It was about 20kms to the entrance of the Crater. At the entrance, we had about a 30-minute wait to get our permits before entering through the gate. Our driver organised all of that for us. They have decent toilets at the entrance so I do recommend going there, there were no toilets till our lunch stop.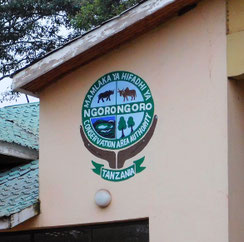 There were baboons everywhere, we were warned to not leave any windows open as the baboons are known for jumping in the jeeps and stealing food. They were interesting to watch. We finally entered through the gates and started heading through the lush forest. The descent into the Crater is spectacular. As the forest thins, the view of the Crater emerges. WOW! It was one of the most magnificent things I've ever seen. It's an old volcanic crater that's about 300 sq km, it's absolutely massive. Mind blowing is the only way to explain it. Photos don't do it justice for how beautiful it is.
 Once we were in the Crater we drove on the dirt roads. We reached hundreds of zebras, they were all around us on the road, close to the jeeps. The jeeps have a roof that lifts up so you can stand on the seats and look out onto the wildlife. At that point we didn't need to as they were right near our windows. My heart was racing, I had a moment where I thought to myself - I'm actually in AFRICA! My dreams had come true. I had worked hard to fulfil the desire I had to travel and see all the amazing things across the world. Animals warm my heart and seeing them in their natural environment was so important to me. I had done it, I think. We kept driving and stopped to see a Hyena walk right past us, they are such mangy looking animals. All the jeeps have a radio system so the drivers can talk to each other for emergencies or to let others know where the animals are. If we spotted a Lion, sure enough our driver put it out there and before we knew it, there were about five other jeeps alongside us.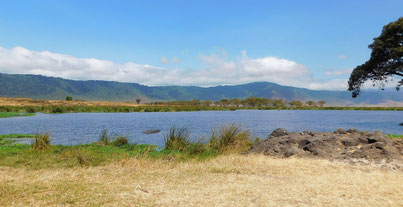 We stopped for lunch at the Hippopotamus lake. It's so scenic, a beautiful lake filled with lots of hippos. We all got out our packed lunches and sat down to eat. I am Gluten Intolerant, so for me the packed lunch was a roasted large chunk of sweet potatoes and cooked chicken. The chicken was cooked the night before and put in the lunch boxes, set out on tables all night and not refrigerated at all. I personally chose to not eat the chicken.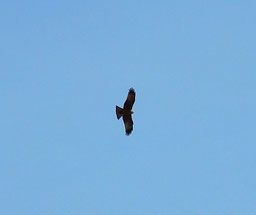 I sat by myself to just enjoy the moment and take in the serenity. While I was thoroughly enjoying my aluminium foil wrapped, large chunk of under cooked sweet potato, a huge Eagle was sizing up my lunch, circling above my head, then swooped right near my ear and took off the top my sweet potato.  I was later told it could have taken off a finger, luckily this Eagle was very precise. That was the end to my lunch. to my lunch.
After seeing a lot of amazing animals, which included lions, elephants, buffalo, giraffes, flamingos, cheetahs and lots of wildebeest, we headed out of the Crater to make our way to our camp site in the Serengeti National Park.
Before I left home I had watched the Youtube clip of a lion licking the condensation off a tent. I joked "That won't happen to us, I'm sure our camp site will be fenced in."  Well that wasn't the case, we arrived at our campsite and sure enough there were no fences anywhere to be seen. We were in the Serengeti with absolutely nothing between us and the wild animals. WOW!
Our tents were all set up when we arrived at the campsite. The camp grounds were huge. Multiple tour companies use them, which means there are lots of tents. Of course mine was the one closest to the shrubbery. The facilities were very basic, no electricity, just large communal sheds for meals and very simple bathroom facilities. There was no way I was showering in the dark, eww. Body wipes are essential for travel around Africa. Just before I headed into my tent for the night, a couple pointed out that they could see a buffalo, it was standing on the edge of the camp watching us. I wasn't that concerned, I thought if we don't engage then it will keep going on its merry way. It did.
Lying in my sleeping bag, trying to fall asleep, I heard a loud lion's roar, it sounded close. It gave me goosebumps to think that it could enter our camp grounds at any time. I finally fell asleep to be woken up by scratching on the tent. All my instincts told me to lay still and not move - that's exactly what I did. I eventually fell back to sleep. I exited my tent in the morning to find the bins all scattered through the camp. I asked what had happened and the response was "Oh, just hyenas went through the camp" I then asked if that's what was scratching on my tent. "Oh yeah, that was them too." What an experience, sleeping in the actual wild and having hyenas scratching on my tent, thankfully they didn't get in, I could have been Hyenas dinner.
There were resorts in the Serengeti for those that struggled with the basics, but there was something magical about being in the elements with the wild up close and personal. Africa is not cheap, I went through some basic tour companies, I wouldn't really recommend either of them, which I will go into further detail in a future blog. I went with the camping option, otherwise the price more than doubles. Our guide was fabulous. He also had his own tour company that he explained was camping, but more luxury camping. I would recommend doing it that way, the facilities sounded nicer, but you still get the outdoor feel.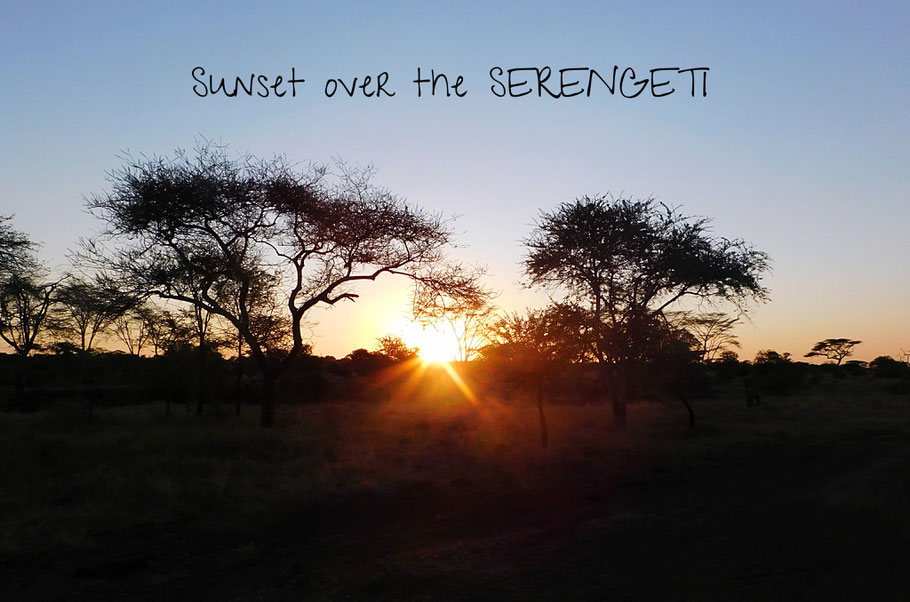 We were back in the jeeps to game drive through the Serengeti. Early is better, that's when most of the animals are active, as soon as it gets hot they all hide to find shade. I have heard night drives are the best type of game drives as that's when the predators are hunting, but that wasn't included in my tour itinerary. I would recommend looking for tours that include it or have it as an optional extra. We followed a couple of lionesses around hoping they would get a kill, part of me didn't want to see it, but then part of me felt bad for her as she was very thin and looked hungry. We didn't witness any kills apart from a leopard in a tree with a kill already caught.
I think most people in our tour group were more impressed with the Ngorongoro Crater, the landscape was incredible. Make sure it's part of the tour you organise, it was in most tours I looked at, it is something you don't want to miss.
 Love life and adventure on,
MiShel. 
---
All images are taken by Mishel Lee.
---