This blog is solely to highlight the issues that could arise with booking a room in a private house for a first-time traveller than staying in a hostel. I believe that the accommodation booking website AIRBNB is fabulous, I have used it many times to hire a house with friends, but would I book a room in someone else's house while I'm travelling alone? Absolutely not.
 For those that are not familiar with AIRBNB, it is a great website. Anyone can hire out their house or just a room in their house for a cost. I personally have only used it to hire an entire house, over a room. I have never had an issue; the home has always been exactly like the images, and the money and key transfers were seamless.
Some alarming things I have heard lately is that young, first time female travellers are choosing to stay in a AIRBNB shared room, over a hostel to cut costs. I totally understand wanting to save money, but you can't put a price on safety.  Hostels are designed for the solo traveller who are on a budget. This is the whole reason they exist. Hostels have improved so much in the last 10 years. They are basically a hotel now for solo travellers.
Hostels have dorm rooms with anywhere between 4 to 16 beds in a dorm and depending on the hostel size, communal bathrooms, kitchen and common rooms. Some hostels have single sex dorms, others may have single sex dorms as well as mixed dorms. Personally, I would never stay in a mixed dorm, but I know of some girls that do and they haven't had an issue apart from having to listen to the men snore all night, YUK!! No, thanks. I often hire the private room with private bathroom, yes, I'm a princess. You ask, why stay in a hostel and not a hotel if that's the case? A hotel is filled with families, couples, business people and loners who like don't like to socialise. I'm a social butterfly, I love meeting new people, especially other travellers. A hostel is designed to get solo travellers meeting other solo travellers. Most hostels have amazing communal areas, organised events such as trivia nights or pub crawls to help break down the walls of isolation.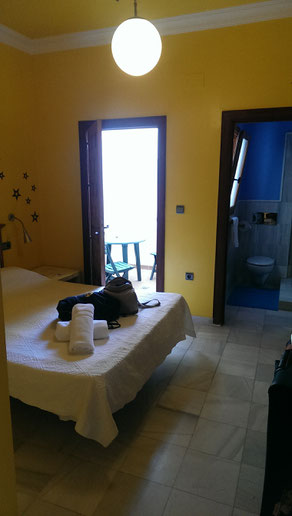 This picture was taken in a hostel in Spain. This was a private room with a private bathroom. I also had my own balcony. Linen and towels supplied.
 People are offering a room on AIRBNB or other sites in their house/apartment, which is not private. They are putting bunk beds in a room and hiring out the bed. This is totally fine if there is a group of people all wanting cheap accommodation, but not for a first-time solo traveller. Please do not do this. I'm going to you explain why you shouldn't.
From here on as I compare the differences, I will refer to the AIRBNB bedroom as a PB, a Private Bed and compare it to a hostel.
A PB could have multiple beds in the room. I am going to copy and paste some of the rules I see on the website on one particular room.
- - HOUSE RULES: - NO VISITORS - NO LOUD MUSIC/PARTY - CLEAN AFTER YOURSELF - NO PARK IN THE DRIVE WAY - NO SMOKING EXCEPT IN THE SMOKING AREA - PLEASE DO NOT OCUPY BATHROOM FOR LONG, RESPECT OTHERS - QUIET TIME AFTER 10 PM - - CHECK IN AFTER 10 PM IS SUBJECT TO AN EXTRA CHARGE OF $10 PER HOUR PER PERSON-NO PETS - NO GUESTS UNDER 18 Y.O. -NO GUESTS AFTER 40 Y.O. - DONT LEAVE YOUR THINGS UNATTENDED, WE ARE NOT RESPONSIBLE FOR MISSING ITEMS. - DONT WALK BAREFOOT.
Let's see if you picked out one of the biggest issue I have with these places?
DONT LEAVE YOUR THINGS UNATTENDED. If you guessed it, well done. Most of these places do not have lockers. All hostels have lockers, some you need to supply your own lock, others have codes on the locker, or work with your swipe card, depending on how high tech the hostel is. Let's be honest, who wants to watch their belongings 24/7 while they are travelling? Most people now travel with electronics such as laptops, tablets, GoPro, cameras; all things you are not going to take to a night club with you. I will not be taking my laptop sightseeing with me. A locker is very important. Other people staying in your room will see you on your laptop, you have no idea who that person is and what they fancy, it might just be your laptop, especially if they are checking out right after you have left for the day. I personally have never had any possessions stolen in a hostel, I always use the lockers for my tech and always have the lock on my suitcase or backpack when I'm not there if my luggage is too big for the lockers.
Speaking of electronics, they all need charging. Most hostels have power points attached to the head of the bed or on the walls of the bunk and a reading light. A PB more than likely would not. I charge my phone at night, I wouldn't want it too far away from me, as it also serves as my alarm. I have stayed at a hostel in Africa where the power board was at the foot of the bed, which all four beds used, sometimes there is no choice, power is power. If I had to charge it away from my bed, I wouldn't leave it overnight. You have no control over what other people do. It is very common that travellers have extremely early flights and leave the room very early, while you may still be sleeping. Again, you are in a room with total strangers, you do not know anything about that person.
 I always try to stay at a hostel that has a manned 24hr front desk, I feel safer knowing that if there is any problem at all there is someone there to handle the situation. From what I can see, all the PB descriptions have rules attached, it does not mean that people stick to the rules. If the person who owns the house are out for the night and your roommate decides to sneak in a male friend for the night, who do you go to? If it's a mixed gender dorm and someone decides to jump into your bed and not theirs, who is there to help you? It's not so easy in a hostel to sneak people in and its common knowledge that it is frowned upon, it doesn't mean that people that are all staying the hostel might also want to share the same room. In this case you head down to the front desk and before you know it the situation has been dealt with. Any other issues in the room in a hostel, I'm sure if you scream loud enough, someone else in the adjoining rooms will hear and sound an alarm. In a private house you could be very isolated.
Something else to consider is the checking out process. In a hostel/hotel there is normally a luggage storage room, which is a large lockable room designed to keep your luggage. Normally you are given a tag and one on your luggage so they know who they belong to, much like a cloak room at a club or event. Check out is normally in the morning, if you have a night flight you do not want to carrying your suitcase or backpack around all day. In a PB you have no choice, there is nowhere safe to leave your belongings. If you have made the choice to stay in a PB then maybe book your flights in the mornings to alleviate the issue.
I would assume that breakfast wouldn't be included in a PB, where in a hostel it is common that breakfast is included in the rate. I have stayed at a hostel in Miami that included all meals, really helpful important if you are on a tight budget. It will give you more money to spend on whatever tourist attraction you choose to see.
---
---
Hostels are fabulous, there is nothing to be scared about. To be honest I was scared to stay in a hostel for a long time, thinking they were dirty and gross. I had spoken to a lot of other travellers who had told me how amazing they were. Once I stayed in a hostel and experienced everything for myself, I totally agreed. I've made lifelong friends in hostels and hope I have helped highlight some of the differences between staying in a AIRBNB room and a well-established Hostel.
Love life and adventure on,
MiShel.